Control Wiring in Atlanta
MD Electrical Integration provides control wiring in Atlanta. Control wire connects control devices in a lighting and control system, providing a conduit for command and status communication as well as power to the devices in many circumstances.
According to Thomas Hinds, Product Manager-Fluorescent Dimming Ballasts at Lutron Electronics Co., Inc., "control wire is the means via which a user transmits a desired level to the lighting device." "It's critical to choose the right control wiring to assure signal quality, reduce noise and interference, and comply with electrical rules."
Wiring is linked to overall lighting control system factors, such as control system and component selection, layout, and installation methods, and is thus an essential factor to consider when selecting a lighting control solution.
Mark was very professional . Extremely knowledgeable . He installed a swimming pool system for me amd i could not of asked for a nicer looking equipment pad and automation control center
MD Electrical did an amazing job on my house. Need my flood bay lights repaired. MD came out, ON TIME, very professional and got to root of the problem. I appreciate what he did and plan to work with him in the future.
dawit makonnen
2022-02-06
I definitely recommend MD Electrical and will continue to utilize their services. I had the electric panels in my home fixed. Mark arranged to review the issue in a rapid manner. He answered multiple questions and quickly identified the problem. He arrived on time and was able to fix the problem in a matter of hours. He was fair and very knowledgeable. His attention to detail was excellent. I appreciated his professionalism and excellent workmanship. Thank you!
richard brown jr
2022-01-24
ON 12/30/22 A STRONG WIND KNOCKED A TREE THAT WAS ABOUT 150 YEARS OLD WHICH DESTROYED MY ELECTRICAL SYSTEM OUT AND INSIDE OF MY HOUSE! MR.MARK CAME AND ASSESS THE SITUATION AND HE ASSURED ME THAT EVERYTHING WOULD BE ALL RIGHT! HE GAVE ME A REASONABLE QUOTE OF THE PRICE TO REPAIR THE DAMAGES. HE SHOWED UP ON TIME JUST AS HE SAID TO WORK! AS HE WAS WORKING HE TOLD ME ALL THE INTRICAL DETAILS ON PROFORMING HIS TASK STEP BY STEP! HE IS TRUELY AN MD SURGON WHO'S WORK IS PRICELESS. WHEN HE COMPLETED THE JOB IT LOOKED LIKE A MIRACLE. EVEN THE CITY INSPECTER PRAISED HIM FOR A JOB WELL DONE. FINALLY, I SOUNDLY APPROVE HIM AS AN HONEST AND JUST MAN FOR ANY JOB THAT HE PROFORMS!
Talk about beautifully, skillfully, professionally done work! MD Electrical truly Blessed our kitchen with their Exceptional service!!! After being disappointed by the poor workmanship of a previous contractor, I sought the help of proreferral.com to find a license electrician in the area. Through that service, I was contacted by Mark of MD Electrical and he scheduled my consultation for the very next day. Based on his consultation, I could tell that he was knowledgeable and very serious about his work. He discovered that the poor job featured measurements that were not symmetrical, lights were not matching, ceiling cuts were not clean, and the overall electrical work not being up to code. He was very informative. Later that evening, as promised, I received his invoice along with a sketched visual of his corrections for the job! After paying a reasonable deposit, he came out the next day and worked diligently to beautify the project! There weren't any hidden fees and I loved most that he did exactly what he said he was going to do. Additionally, he was very kind and respectable to my family, which was a plus. I most definitely recommend him to any and everyone who needs a professional licensed electrician! (See before and after)
I had an incredible experience by objectively selecting MD Electrical Integration LLC. I had the opportunity in reading this company's history, which indicated they were well organized. As we are all aware, due to COVID-19, there has been serious delays with parts and service companies, absolutely devastating for over a year. I purchased a water heater that needed to be brought up to the current City of East Point Modification Code, After reviewing MD Electrical Integration LLC's History, I decided to seek their help in passing the necessary code. I had the opportunity in meeting Electrician Mr. Mark Howell, which was very impressive in the way he carried himself, especially in a positive professional manner by displaying his knowledge and skills. Mr. Howell was punctual, courteous, and a people's person. I was very pleased with him bringing my water heater up to modification required code. Mr. Howell performed a disconnect procedure which was absolutely necessary in order to pass The City of East Point, mandatory code. When East Point Building Inspector Mr. Timothy Scott, came to do his inspection he stated. "This is what I wanted to see, an excellent job well done". If I may express to all, when it comes that time in your life that you will need electrician, by all means call Mr. Howell and I can guarantee you'll be just as humble and grateful as I'm with Mr. Howell's abilities. Sincerely, Ruth Harris
Mark is a very honest person and he did his best to save me money but still perform the job at the highest level. I would use Mark's services again and I would recommend his services to anyone who want to work with a honest electrician. Thanks Mark for your honesty.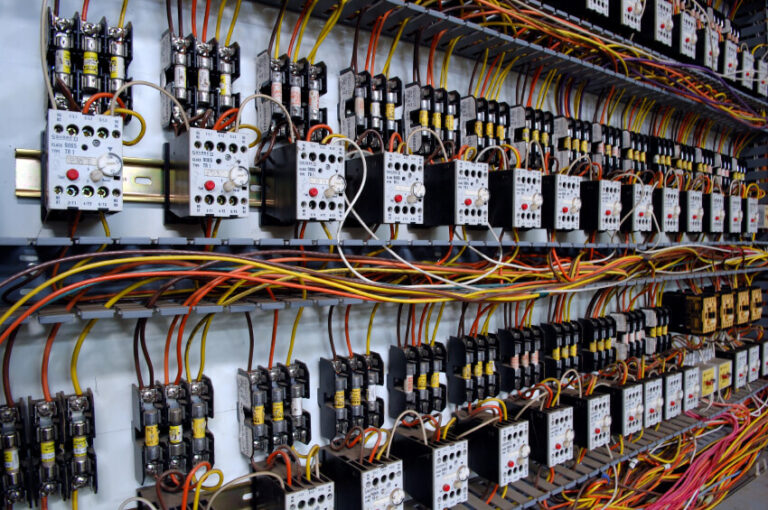 Control Wiring in Atlanta - Line voltage wiring
Power (120-277VAC) and load connectivity for lighting equipment, as well as ground, neutral, and travelers for multiway applications, are all provided via line-voltage (Class 1) wiring. Line-voltage wiring has traditionally been used to establish control zones by grouping light fixtures by circuit/switch-leg. A controller closes or opens the circuit to deliver or withhold electric power, which turns the lights on and off. The wiring can be utilized to communicate raise/lower (dimming) and switching signals via a powerline carrier.
Pros: Line-voltage wiring is extremely known to electrical professionals, making installation less likely. It can provide both power and communication, can be put in the same conduit as other line-voltage cable, and can be placed in lengthy lengths.
Control Wiring in Atlanta - Low voltage wiring
Low-voltage (Class 2) cabling connects low-voltage control devices to supply power (10-24VDC) and communication/feedback.
Pros: Most codes allow low-voltage wiring to be run without conduit and junction boxes, allowing it to be installed separately from power wiring (e.g., on top of suspended ceiling tiles using plenum-rated conductors), allowing for sophisticated control systems involving layered lighting control as granular as individual light fixtures. It is easier to install and, in certain situations, does not need the use of an electrician. It's also quite simple to modify in the event of future adjustments.
Cons: Electrical pollution from the environment (e.g., arc welding equipment) or nearby power wires can be picked up by unshielded low-voltage lines, especially over longer lengths.
Low voltage control wiring: analog versus digital
In today's lighting control systems, dedicated low-voltage control wire allows for greater flexibility and usefulness. Analog 0-10VDC and digital are the most prevalent forms.
Analog 0-10VDC: 0-10VDC wiring consists of two wires connected by a 1-10V potential.
According to Ronald Bryce, National Sales Manager for PLC-Multipoint, Inc., "Analog delivers high signal resolution, allowing for closer identification of real situations." "Take, for example, a photosensor. When a conventional 0-10VDC photosensor is scaled to represent 0-250 footcandles (fc), each volt of the sensor's signal, known as the return signal, is equal to 25 fc. The control system in a retail center generally turns the lights out at 7 fc to disable them. In this example, the return signal would be 0.28VDC."
However, transferability of the signal is an issue with analog, according to Bryce.
Low voltage control wiring: Prefabricated option
Structured wiring, which uses factory-tested and certified cable assemblies, has developed as a premium option that offers a substantial alternative to the old method of using bulk wire to make point-to-point connections. Preterminated connectors such as RJ45 (computer), RJ11 (telephone), or any unique form of connector may be offered for low-voltage analog and digital cabling. These systems are frequently equipped with plug-and-play controllers that automatically configure themselves after installation, allowing for rapid use.
This method has the advantage of simplifying installation and reducing problems caused by improper terminations. Wire lengths, on the other hand, must be defined, and while installation work may be saved, material costs are often greater.
Control Wiring in Atlanta - General principles
The architecture of some systems necessitates the separation of input and output networks. Light fixtures, for example, might be grouped to respond to system orders from a separate network of input devices, such as occupancy and photosensors, manual controls, and so on.
Wiring class: Line-voltage and low-voltage wiring systems have differing field requirements. Most codes allow Class 2 wire to be put outside of conduit, whereas Class 1 wiring can be installed in the same conduit. To avoid electrical interference with the analog signal voltage, the manufacturer is likely to suggest that Class 2 wire not be placed with Class 1 wiring in Class 1 conduit for analog systems.